Custom Consoles
Designed for your FP Folder Inserter
Superior Support
Your business relies on its folding and inserting systems to operate efficiently and keep your business moving. These Custom Consoles are designed to provide superior support for your heavy folding and inserting systems, increasing the reliability and lifespan of your equipment.
Sleek, Modern Design
With their sleek, modern design, ample storage space and coloring to match your folder inserter, form truly meets function with the Custom Consoles. Built to perform, the Custom Consoles feature industrial wheels with locking function, allowing you to easily move your heavy equipment with no lifting involved.
Custom Sizing
The modular style of our consoles allow you to create your own configuration to fit your office space and equipment. No matter how your pair them, our Custom Consoles will provide your equipment with the sturdy support they need.

---
Provides Superior Support
Increases the reliability and lifespan of your equipment.
Convenient Storage
The large, adjustable shelving provides ample storage for all of your folding and inserting supplies.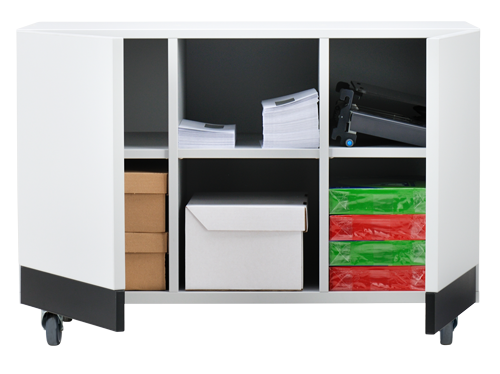 Standard Console Configurations
FP offers three standard configurations designed to pair with the different FP Folder Inserter models.
Industrial Wheels
Provides easy mobility without lifting and allows for easy access during service and maintenance.